According to the Telecom Subscription Base as of March 2020 press release by TRAI, Mukesh Ambani-led Reliance Jio has onboarded 4.69 million new users to the network and leading the largest telecom operator position of India.
The popularity of Reliance Jio continues to grow and the company has established a strong and reliable position among users. This can be gauged from the new TRAI report. In a report released by TRAI, it has been reported that Reliance Jio has remained in the first position for holding the subscriber base continuously from January-March 2020. Now the total number of customers of the company in Delhi Circle alone has increased to 1.82 crores and the company has 34% market share. According to the report, Reliance Jio and state-owned telecom company BSNL managed to add new subscribers in March 2020. While Airtel and Vodafone Idea lost many of their users.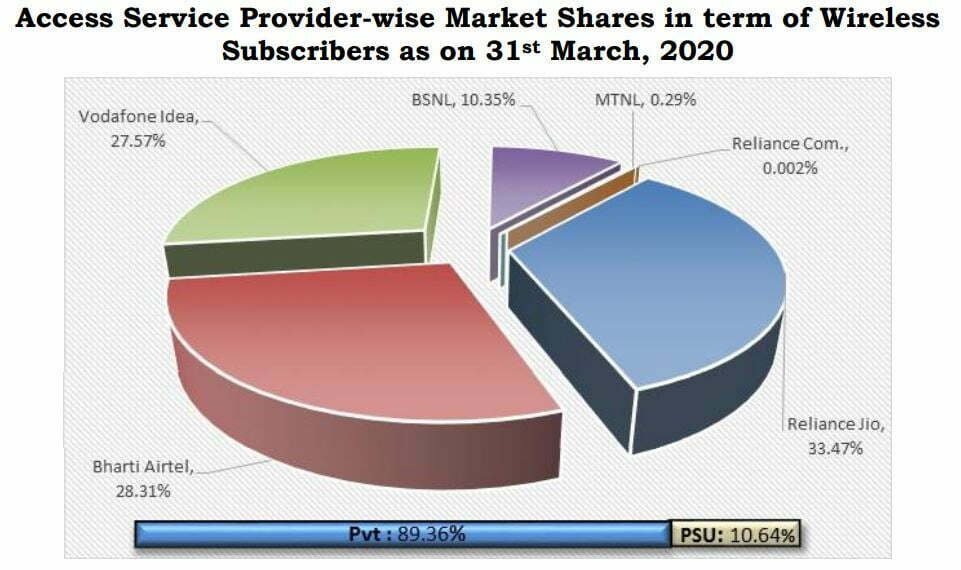 According to the telecom data released by the Telecom Regulatory Authority of India (TRAI), Reliance Jio added more than 46.87 lakh subscribers during March. Now Reliance Jio has a market share of 33.47 lakh. While the subscriber base of Bharti Airtel and Vodafone Idea declined. Bharti Airtel's subscribers declined by 12.71 lakh at the end of March to 32.78 crores. On the other hand, Vodafone Idea has lost the most customers in the month of March. Vodafone Idea has lost 63.53 lakh subscribers and the company's subscriber base stands at 31.91 crores.
As on March 31, 2020, the private access service providers held 89.36% market share of the wireless subscribers whereas BSNL and MTNL, the two PSU access service providers, had a market share of only 10.64%.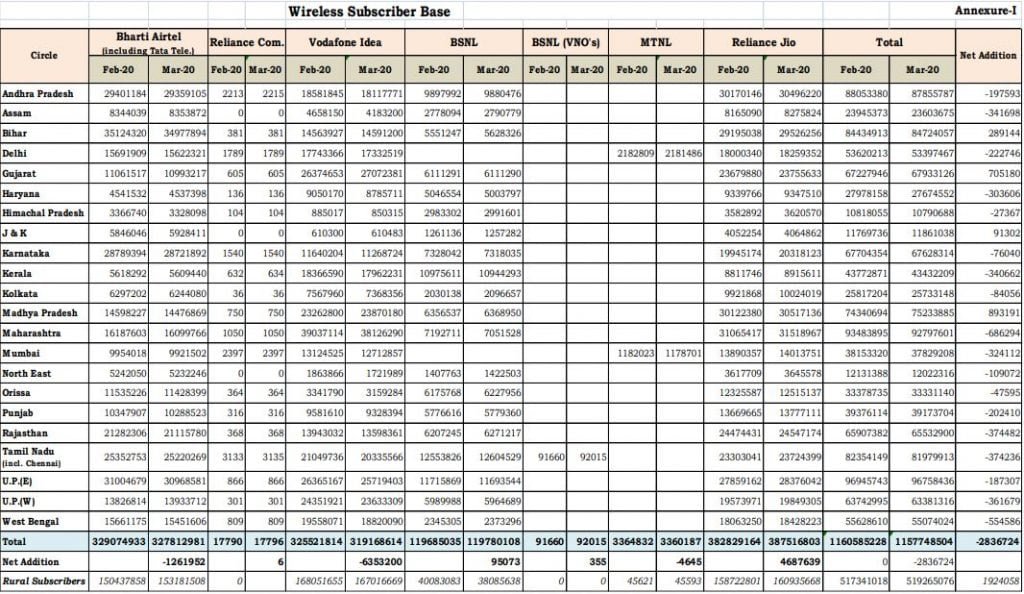 BSNL Added Subscribers in March 2020
Talking about BSNL, this government telecom company has been successful in adding 95,428 subscribers in March. However, this is significantly lower than the company's February performance, as the company added more than 4 lakh customers in February. The report in TRAI stated that the total wireless subscriber base declined from 116 crores at the end of February 2020 to 115 crore at the end of March, registering a monthly decline of 0.24 percent.
Total wireless subscribers (2G, 3G & 4G) decreased from 1,160.59 million at the end of Feb-20 to 1,157.75 million at the end of Mar-20, thereby registering a monthly decline rate of 0.24%. Wireless subscription in urban areas decreased from 643.24 million at the end of Feb20 to 638.48 million at the end of Mar20 however wireless subscriptions in rural areas increased from 517.34 million at the end of Feb-20 to 519.27 million at the end of Mar-20. Monthly growth rates of urban and rural wireless subscription were -0.74% and 0.37% respectively.