MI Credit is a service launched by Xiaomi – one of India's largest phone brand, where it offers loan services to its customers.
Xiaomi has announced Mi Credit, its digital lending solution in India. Mi Credit is a personal loan platform from Xiaomi – India's #1 Smartphone Brand. The loan can be repaid with easy EMIs over a period of 91 days to 3 years. Interest rates start at 1.35% p.m. It's built as a personal loan option aimed at young professionals and millennials. Mi Credit provides an easy application process for securing loans, with an intuitive interface.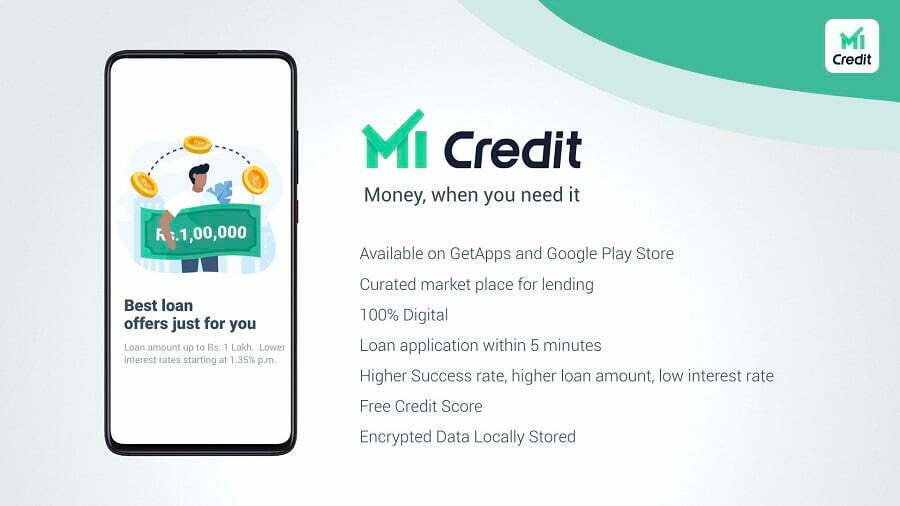 Mi Credit offers service to users over 18 years old and allows you to apply for a loan in four quick steps and get money within minutes. It offers loans up to 1 Lakh Rupees at low-interest rates in the most convenient and secure way. The application process is completely digital and hassle-free and can be completed with the help of your mobile phone anywhere, even when you are sitting at your home, office or commuting. You may use the loan funds for any personal requirement like shopping, travel, education, medical expenses, etc.
Xiaomi works with multiple partners to get the best loan offer for you at affordable EMIs. You have the flexibility to choose EMI tenure so that it is convenient for you to pay the EMIs!
Hong Feng, Co-Founder and Senior Vice President, Xiaomi Corporation, and Chairman and CEO, Xiaomi Finance on the global launch of Mi Credit outside China, said:
Xiaomi's Mi Finance business started four years ago in China, with an aim to provide Fintech innovation for everyone. We are committed to being the comprehensive financial partner for our global Mi Fan community, retail partners and manufacturing Industry. Today, we have over 300 million Mi Fans in our global community and having understood their consumption behaviour, it is one of the strengths we aim to leverage to build a stronger Mi Finance business globally.

We see a huge opportunity for consumer lending in India with estimations reaching up to $1 trillion dollars in digital lending by 2023, as per a report from BCG. This makes us believe that our Mi Finance business, based on solutions such as Mi Pay and Mi Credit can truly revolutionise the Indian FinTech industry.
Manu Jain, Vice President, Xiaomi and Managing Director, Xiaomi India further said:
In India, the lending industry is on an explosive trajectory. As per a recent report from CIBIL, there are over INR 4 lakh crores worth of personal loans outstanding from nearly 1.9 crore customers, with each user accounting to an almost INR 2 lakh of the outstanding amount. Of these 1.9 crore customers, the majority tend to avail it for medical emergencies followed by shopping, wedding, travel and education purposes. We are bringing Mi Credit to India hoping to provide yet another innovative and truly digital solution for their lending needs.
Credit Report / Experian Score on Mi Credit
In the Mi Credit app, you can also check your credit report / Experian report worth ₹1,200 for free. You need to provide a few basic details and you can get a detailed analysis of your bureau report. You can use the tips to improve your credit score, which will be handy whenever you need a loan in the future.
Benefits of availing a loan from MI Credit
The process to apply for a loan from MI Credit is extremely simple and hassle-free. If you meet all the eligibility criteria, then the lender disburses the loan amount to your bank account in real-time
The rate of interest is attractive and starts at 1.8% per month. MI Credit is highly secure, and the information provided by you remains safe. For example, if the loan amount is ₹20,000, interest charged is 16.2% per annum and the loan is to be repaid over 6 EMIs, then the overall interest payable would be ₹937 and the EMI per month would be ₹3423. Please note the processing fee starts at around 1.99% + GST. The figures provided are indicative and are subject to change from time to time.
How to apply for a loan from MI Credit
Download the MI Credit app on your mobile phone.
Launch the app and grant all the permissions.
Click on 'Get Now' and provide your mobile number. You will receive a 'One-Time Password' (OTP) on your registered mobile number. Enter the OTP and proceed.
The next step will require you to upload all the necessary documents.
Upload a picture of yourself and click on 'proceed'. A loan profile will be created and whether you are eligible for a loan will be checked.
If you meet the eligibility criteria, you will be allowed to upload the details of your bank account and salary details. The lender will disburse the loan amount to the bank account provided by you.
Mi Credit has been running in India in a pilot format and has already disbursed loans worth over 28 crores in November 2019, with over 20 percent users opting for the highest amount of loan (Rs 1 lakh). Currently, Mi Credit services more than 10 states spanning across 1,500 pin codes, and aims to expand its availability to the rest of the country by the end of FY2019.
Mi Credit app comes preloaded on all MIUI phones, and can also be downloaded from Google Play Store and GetApps, Xiaomi's own app store. Mi Pay is a UPI based payment app available on all MIUI phones and can be downloaded from GetApps and Google Play Store. It was launched in India in March 2018 and already has over 20 million registered users.