Galaxy Watch Active2 4G is designed to give a personalized experience to help achieve your fitness goals & stay connected with 4G.
Samsung India, the country's most trusted consumer electronics and mobile phone brand, recently announced the launch of Galaxy Watch Active2 4G to further diversify the company's 4G smartwatch range. With the launch of Galaxy Watch Active2 4G, Samsung now has the largest 4G watch portfolio in the country. The Galaxy Watch Active2 4G is designed to complement the needs of 'on the go' consumers enabling them to keep a track of their fitness goals and stay connected with the world, at all times without their phones.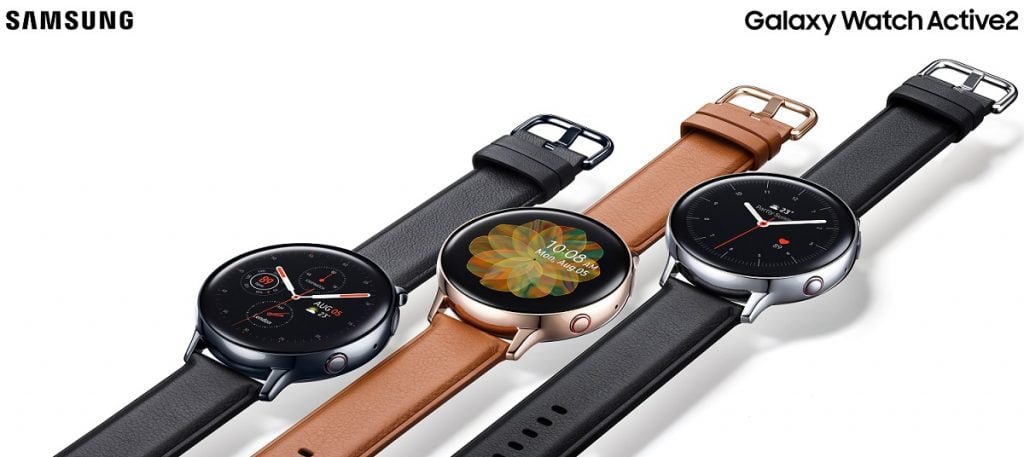 The launch of Galaxy Watch Active2 4G is a reflection of Samsung's commitment to creating an ecosystem of products that allows consumers to switch between work and play, seamlessly. Earlier this year, Samsung had announced the launch of Galaxy Watch 4G, the company's first 4G smartwatch in India. With Watch Active2 4G, Samsung has become the only brand in India to offer multiple 4G smartwatches options to its consumers.
Aditya Babbar, Director, Mobile Business, Samsung India said,
At Samsung, we understand the needs of the consumers. The Galaxy ecosystem has been created to ensure that the latest innovations and technologies are accessible to all. With the launch of Galaxy Watch Active2 4G, Samsung now has the widest range of 4G enabled smartwatches in India spanning 2 unique design templates, 3 sizes and 6 colour finishes. The fresh design language and all new digital bezel UI in combination with seamless 4G connectivity makes the Watch Active2 an essential product for those seeking a blend of style and functionality. to The mantra "Do What You Can't" has always been the driving force behind such meaningful innovations that help us enrich the lives of our consumers.
Galaxy Watch Purposeful Design, Tailored to Suit Your Life
Galaxy Watch Active2 4G offers various customizations to match your personality and style. The masterfully designed 44mm Galaxy Watch Active2 4G comes in a premium, solid stainless-steel case with a leather band. The lightweight, slim and ergonomic design makes it the perfect fit for any occasion. You can choose from 3 different finishes in the steel case – Gold, Black & Silver. The Super AMOLED Display covers the screen edge to edge and comes with a touch bezel, giving the consumer an all-new experience while navigating through apps on the Galaxy Watch Active2 4G.
Galaxy Watch2 Achieve Your Wellness Goals
Galaxy Watch Active2 4G aims to enable users to improve their fitness levels, by guiding users on wellness goals. The Galaxy Watch Active2 4G comes equipped with advanced sensors that accurately track up to 39 distinct activities with auto-tracking for popular activities such as walking, running, cycling, rowing, Elliptical Trainer, dynamic workouts and swimming.
The smartwatch comes with an updated 'Running Coach' that provides access to seven different running programs and lets users monitor their running pace in real-time. Galaxy Watch Active2 4G accounts for an advanced health sensor offering faster readings and detailed user insights that also maps stress levels.
Galaxy Active2 4G provides access to guided meditation programs through an integration with the popular sleep and meditation app, 'Calm', enabling consumers to have access to enhanced sleep analysis.
Galaxy Watch2 Seamless Connected Lifestyle
Samsung Galaxy Watch Active2 4G comes with e-sim connectivity helping consumers stay connected and allows them to make and take calls freely from the watch itself without having to keep their phone around. Users can access social media apps with just the tap of a finger even while they are away from their smartphones. Sharing a social media post or watching a short video clip right from your wrist, Galaxy Watch Active2 4G makes it all easy and simple. The new watch makes it even easier to stay connected through Samsung's partnership with Spotify.
It allows users to easily browse through their music, podcasts on Spotify and enjoy an uninterrupted listening experience. Galaxy Watch Active2 4G will be supported by the country's leading telecom operators Airtel and Jio. Simply set-up and pair your smartwatch with your smartphone and be a part of the connected world.
Integral Part of the Galaxy Ecosystem
Galaxy Watch Active2 brings the best of Samsung's Galaxy ecosystem to your smartwatch. The Samsung Galaxy Ecosystem is designed for power users who want to do it all, on the go. Once connected to your phone, Galaxy Watch Active2 4G allows users to easily take photos, start recording a video, preview video clips, switch between front and rear lenses, set a timer and then check the final photo or video — all from the wrist. Users can also charge their Galaxy Watch Active2 4G in an easy and intuitive way using Wireless PowerShare on their Galaxy smartphones.
Galaxy Watch2 Price and offers
Galaxy Watch Active2 4G comes with a 44mm steel dial in silver, black and gold finishes at INR 35,990.
Galaxy Watch 4G comes in both 46mm and 42mm variants at INR 30,990 and INR 28,490 respectively.
Galaxy Watch 4G and Watch Active2 4G are available across offline channels, Samsung Opera House, Samsung e-shop and leading online portals.