Through the ACT stream TV 4k set-top box, users can access multiple OTT platforms such as Netflix Amazon Prime Hotstar Zee5, etc. on their TVs.
Broadband service provider ACT Fibernet launched the ACT Stream TV 4K set-top box based on its Android TV last year. It was launched at a price of Rs 4,499. Through this, users can access many OTT platforms on their TVs, such as Netflix, Amazon Prime, Hotstar, Zee5, etc. The company is also offering additional 100GB data with it, which can be accessed by 31 August 2020.
The company has now launched a rental scheme for this set-top box. For this, two types of rental schemes have been launched. In the first, users will have to pay at the rate of Rs 200 per month. However, in the second scheme users will have to pay at the rate of Rs 1,000 per month. To take the monthly rental, users will have to pay a refundable amount of Rs 1,000 separately, which will be returned to the users as soon as the set-top box is returned. Come, know about these two rental plans.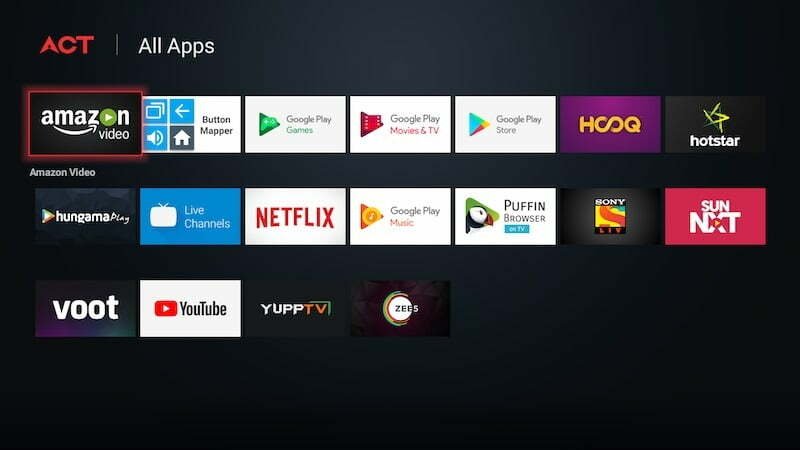 Regardless of the plan, be it Rs. 200 or Rs. 1,000, ACT Stream TV 4K rental customers need to put down a refundable security deposit of Rs. 1,000. The company also has an offer valid till August 31 which will let customers enjoy shows from over 100 live TV channels as well as additional 100GB data every month, according to the official website.
ACT states that content can be streamed at Standard Definition if you have at least 3Mbps, High definition if you have at least 5Mbps, and HDR or 4K if you have at least 25Mbps.
As mentioned, ACT is also touting new features with the ACT Stream TV 4K streaming box, which now includes preloaded Amazon Prime video app, and the option to sign up for Netflix via the device itself, and pay for it via their ACT Fibernet bill, whilst getting cashback.
The ACT Stream TV 4K has several streaming apps preloaded like Netflix, Prime Video, Zee5, Hooq, and Hungama Play. It offers customers the ability to subscribe to the various services right from the device which will then be added to the bill. The inclusion of Google Assistant allows customers to ask anything from anywhere by pressing the Assistant button on the remote. The 24-hour catch-up feature will allow you to watch shows that you might have missed up to 24-hours.
The streaming box is powered by HiSilicon 3798M V200 chipset, has 2GB of RAM and 8GB of flash storage. It supports dual-band 802.11ac Wi-Fi. It runs Android 9.0 Pie. There are two USB ports on the ACT Stream TV 4K box, an Ethernet port, one AV output, and a micro-SD card slot that supports up to 64GB. This service can only be availed by ACT customers as of now.
Ravi Karthik , Marketing Head , ACT Fibernet said,
Customers today enjoy content on TV and across Video on demand platforms. With the ACT Stream TV 4K, we wanted to bring convenience and value to our customers. In line with our promise of Feel the Advantage, customers can now view/ stream all their favorite content (Streaming Apps+ live tv) in one place. Customers will also be eligible for special offers on Netflix (cash backs) and popular apps like Hooq and Zee5.
Furthermore, one can choose two rental programs including monthly rental of Rs 200 + taxes and a 6-month rental fee of Rs 1000 + taxes. The ACT Fibernet ACT Stream TV 4K comes with a price tag of Rs 4,499. All customers will get a special promotional offer of 100+ TV channels, 100 GB extra data per month along with 1-month Zee5 and 2-months HOOQ subscription complimentary.