Tata Sky Broadband users have received a setback. Internet data is now being offered to users in the Monthly Unlimited Plan with the FUP limit.
Tata Sky Broadband users have been slammed by the company. Users with unlimited internet data limit are now being offered internet data with the FUP limit. Tata Sky is offering two types of Internet plans to its broadband users. A fixed GB plan and another unlimited internet broadband plan are being offered in it. On the company's official website, the company has changed the terms and conditions of using its unlimited internet broadband plan. The company has decided to set FUP (Fair Usage Limit) for users using unlimited internet data.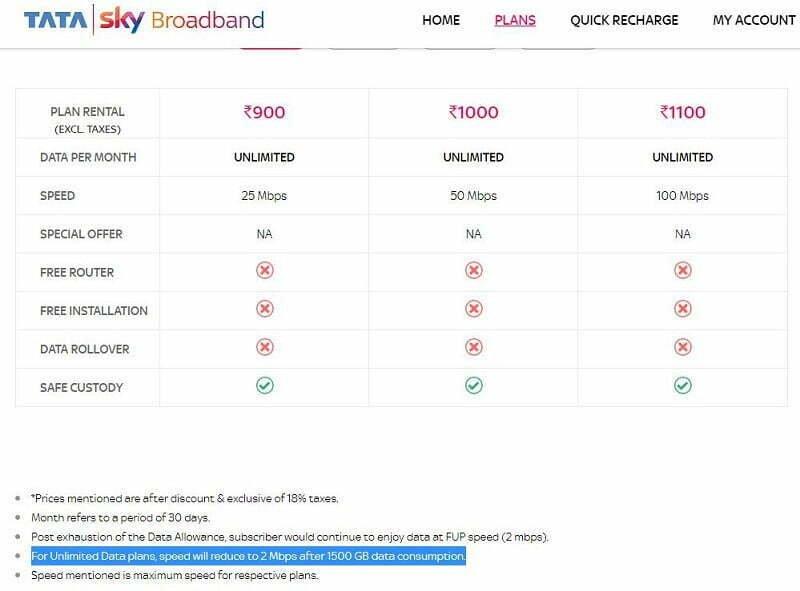 Users with unlimited data plans are now being given the benefit of high-speed data up to 1,500GB internet data limit. After using 1,500GB of data, the speed of internet data will be reduced to 2Mbps. Earlier, such terms and conditions were not given for long-term or short-term plans on the company's website.
Four types of unlimited broadband plans are being offered for Tata Sky users. This includes the Monthly, Quartley, Half Yearly and Yearly Plans. The company's broadband plan starts at Rs 900 and users are being provided service of internet data at speeds ranging from 25Mbps to 100Mbps. The company is offering a discount of 15 percent with its early plan. At the same time, Half Yearly is offering a discount of 10 percent with plans.
Recently, the company had announced that free unlimited calling to all broadband users is also going to start soon. The company may also have made this new change to start calling service, but now users will not get the benefit of unlimited data. Users will now be given the benefit of data at low speed after using 1,500GB of data.