Reliance Jio's prepaid users will now be able to recharge from their Nazdmiki ATMs. For this, they have to follow a small process.
Reliance Jio has revealed that its customers can recharge their mobile numbers from the nearest ATM in India. The company has revealed that Jio users can recharge prepaid mobile numbers at an ATM near their location.
Telecom company Reliance Jio has provided its prepaid mobile users the facility to recharge their phones through ATMs. Users will be able to recharge their phones through SBI, AXIS, ICICI, HDFC, Citi, DCB, AUF and Standard Chartered Banks. For this, users have to choose the recharge option from the ATM menu. Reliance Jio has also tweeted about this from his official Twitter account.
How to recharge your Jio number through ATM
First off, it is important to know that only a select number of ATMs have been endowed with this recharge functionality. These ATMs belong to select banks as well. Currently, ATMs owned by State Bank of India, Axis Bank, ICICI Bank, HDFC Bank, IDBI Bank, Citibank, DCB Bank, AUF Bank, and Standard Chartered Bank support the Jio recharge function. In case you have an ATM from one of these banks nearby, here's how to perform the recharge. To start the process, you will require your debit card with the required balance for the recharge amount in your account.
Step 1: Insert your card into the ATM
Step 2: Look for the 'recharge' option and select it
Step 3: Enter the mobile number you wish to recharge
Step 4: Enter your ATM pin
Step 5: Choose your recharge amount. You will need to select your desired plan and recharge value in advance for the same.
Step 6: To confirm your recharge, press the 'Enter' key. The selected amount will be debited from your account, and you will get a recharge SMS from Jio.
Talking about the recharge plan, the company recently updated its 4G data vouchers. In the vouchers of Rs 11, Rs 21, Rs 51 and Rs 101, now users are being given double data and non-live FUP minutes. However, there has been no change in the voucher of Rs 251.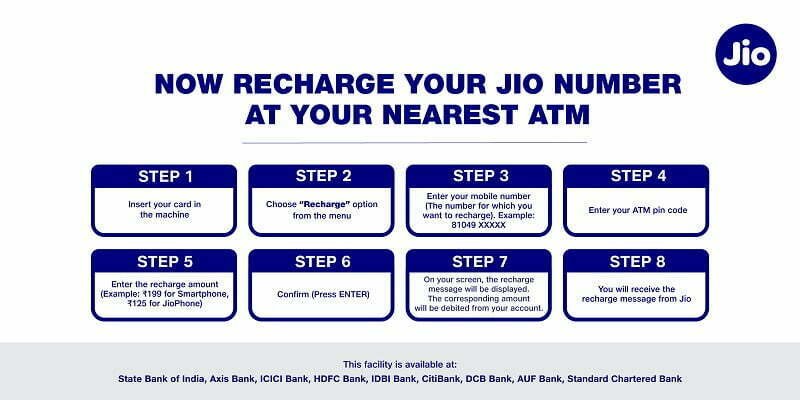 At the same time, talking about Reliance Jio Fiber, Reliance Jio has written in one of its tweets that there will be no problem to keep the users connected. In such a situation, the company is providing Dabal Data Benefit to users under Reliance Jio Fiber. In view of the lockdown situation in the country, Work from Home has been announced.
Previously, Reliance Jio said that it will provide Basic JioFiber broadband connectivity of 10Mbps without any service charges. The brand says that it will provide free broadband service wherever it is geographically feasible. The company has also revealed that it will provide double-data across its 4G data add-on vouchers. The operator will also bundle non-Jio voice calling minutes in these vouchers at no additional cost.
The operator has also revealed new 'Work From Home' prepaid plan for its customers. The plan offers 2GB of data per day and it comes with a validity of 51 days. The pack comes with a price tag of Rs 251. Interestingly, the pack does not offer any calling or SMS benefits.
As you might have guessed by now, this is simply one more avenue for recharging your Jio number during these tough times. ATMs being part of essential services, continue to remain operational during the entire period of lockdown. All said, it is advisable that you remain at home and perform an online recharge, which we believe is still an easier procedure overall.