The OnePlus 11 5G showcases a stunning 6.7-inch AMOLED display featuring QHD+ resolution, ensuring crisp visuals and vibrant colors. With a remarkable 120Hz refresh rate, users can expect a smooth and fluid viewing experience. The display's touch response rate of 1000Hz further enhances the device's responsiveness, allowing for swift and precise interactions. Under the hood, the OnePlus 11 is fueled by the formidable Qualcomm Snapdragon 8 Gen 2 SoC, paired with a maximum of 12GB RAM and 256GB internal storage, providing ample power and storage capacity for seamless multitasking and storage of files, apps, and media.
OnePlus, the renowned smartphone manufacturer, is all set to mesmerize its fans once again with its latest offering, the OnePlus 11 5G Marble Odyssey. Known for its exceptional combination of cutting-edge technology and elegant design, OnePlus continues to push the boundaries of innovation in the smartphone industry. With the upcoming launch of the OnePlus 11 5G Marble Odyssey in India, the anticipation and excitement among tech enthusiasts have reached new heights. In this blog, we will delve into the key features, specifications, and expectations surrounding this highly anticipated device.
Unveiling the Marvelous Marble Odyssey
The OnePlus 11 5G Marble Odyssey is expected to be an epitome of sophistication and style, boasting a captivating design that is sure to turn heads. OnePlus has always been revered for its focus on design aesthetics, and the Marble Odyssey variant is set to take this commitment to the next level. The device will feature a sleek and seamless marble-inspired back panel, which adds a touch of elegance and uniqueness. The subtle blend of white and grey hues creates a visually stunning effect, making it a true masterpiece in the smartphone world.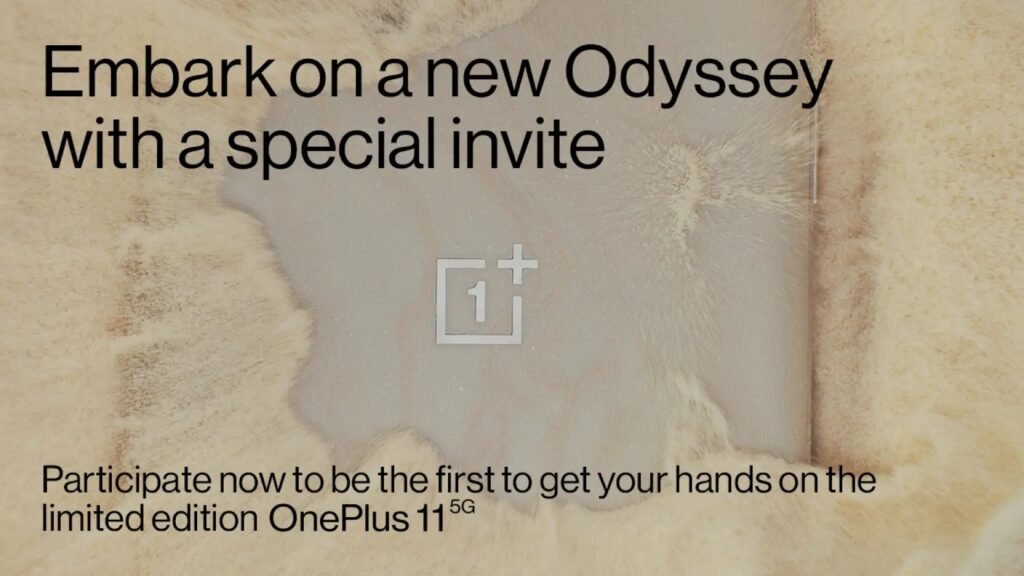 Cutting-Edge Technology
Beyond its remarkable design, the OnePlus 11 5G Marble Odyssey is anticipated to pack a punch in terms of technology. OnePlus has consistently delivered powerful devices, and this model is expected to be no exception. Powered by the latest Qualcomm Snapdragon processor, the OnePlus 11 is poised to provide a smooth and lag-free user experience. Additionally, the device is likely to offer an immersive display with a high refresh rate, enabling users to enjoy fluid scrolling and seamless gaming.
Enhanced Photography Capabilities
OnePlus smartphones have always impressed photography enthusiasts, and the OnePlus 11 5G Marble Odyssey is expected to raise the bar even higher. Equipped with an advanced camera system, the device will enable users to capture stunning photos and videos with exceptional clarity and detail. With a combination of high-resolution sensors, enhanced image processing algorithms, and a range of innovative features, the OnePlus 11 will make every shot a masterpiece.
Seamless 5G Connectivity
As the world transitions towards the era of 5G, OnePlus has consistently prioritized connectivity in its devices. The OnePlus 11 5G Marble Odyssey will likely offer seamless 5G connectivity, allowing users to experience lightning-fast download and upload speeds. Whether it's streaming high-definition content, multiplayer gaming, or video conferencing, the device will ensure a lag-free and immersive experience, keeping users connected like never before.
Software and User Experience
OnePlus is known for its clean and user-friendly OxygenOS interface, and the OnePlus 11 5G Marble Odyssey is expected to continue this tradition. Built on top of Android, OxygenOS provides a smooth and intuitive user experience, enhancing productivity and convenience. Additionally, OnePlus has been diligent in delivering timely software updates, ensuring that users can enjoy the latest features and security patches.
With the impending launch of the OnePlus 11 5G Marble Odyssey in India, OnePlus fans and smartphone enthusiasts are eagerly awaiting the opportunity to get their hands on this magnificent device. Boasting a captivating design, cutting-edge technology, and exceptional camera capabilities, the OnePlus 11 5G Marble Odyssey promises to be a worthy addition to the OnePlus family. As the brand continues to redefine smartphone experiences, the OnePlus 11 aims to set new standards for performance, style, and innovation.
Disclaimer: The information provided in this blog is based on speculation and leaks available at the time of writing. Actual features and specifications of the OnePlus 11 5G Marble Odyssey may vary upon official release.
Follow TelecomByte for the latest Tech News, also keep up with us on Twitter, and Facebook.