The revamped mobile number portability (MNP) or port out rules aim to makes the entire process faster and simpler, cutting the migration process from the current seven days.
Telecom Regulatory Authority of India (TRAI) has circulated a press release on Thursday by stating customer will not be able to submit request for Mobile Number Portability (MNP) between November 04, 2019 to November 10, 2019 of switchover period to the new and simpler port-out regime that will be effective from November 11 2019. Under Mobile Number Portability (MNP) subscribers can switch operators without changing their mobile number.
Through these amendment regulations, a major shift in the mechanism for generating Unique Porting Code (UPC) has been provisioned. Pre-validation of eligibility conditions for porting will determine the generation of UPC by the Mobile Number Portability Service Provider (MNPSP). This shall ensure smooth porting in a new framework, thus making the porting process faster and convenient to the mobile subscribers. The validity of UPC as per the new process will be 4 days for all Telecom Circles, excluding the Telecom circles of Jammu & Kashmir, Assam, and North East, where the validity of UPC will still be 30 days.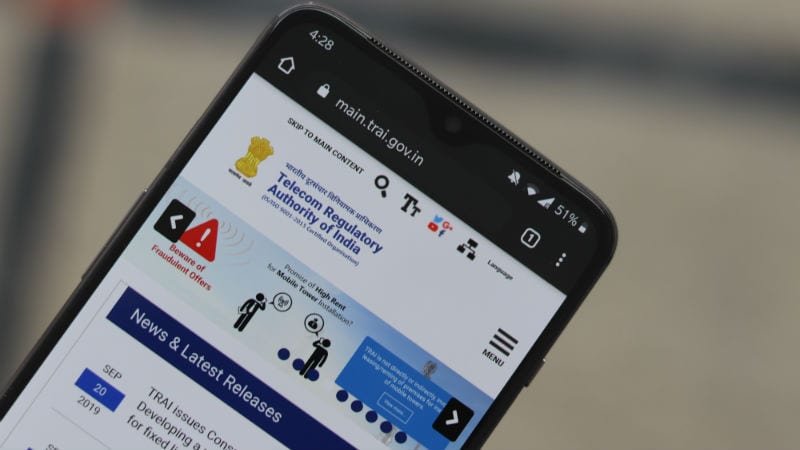 Individual porting requests of Intra-Circle (within the same state) nature will be completed in 3 working days; whereas the porting requests of Inter-Telecom Circle (Outside of the current Telecom Circle) nature and all porting requests under corporate category (both same and other states) will be completed in 5 working days. For example – Porting request of the mobile subscriber 'X' (individual) of Karnataka Telecom circle who wants to change his operator within Karnataka telecom circle will be completed in 3 working days, whereas the service request of a person 'Y' (individual) who wishes to port his mobile number from Karnataka telecom circle to Delhi telecom circle service area will be completed in 5 days).
As per the TRAI direction, the cut-over to the new regulations will be effective from 00:00:00 hours of November 11, 2019. In the current MNP process, mobile subscribers can generate the UPC and submit their port request to the Recipient Operator of their choice till 17:59:59 hours of 04.11.2019.
No Service Period for 6 days
There will be 'No service period' of 6 days for mobile number portability starting from 18:00:00 hours of 04.11.2019 till 23:59:59 hours of 10.11.2019 for all Telecom Circle. Existing active UPCs where no porting request is not submitted by the subscriber till 17:59:59 hours of 04.11.2019, will become invalid. The subscriber can attempt the UPC generation afresh after the migration to the new process starts from 00:00:00 hours of 11.11.2019.
What Will Happen For Existing Porting Requests
For all such previous requests where the subscriber submits porting requests by 17:59:59 hours of 04.11.2019 and the Donor Operator subsequently grants clearance, the porting will have to be executed in the next porting window i.e. on November 11, 2019 and activation of all services of porting have to be completed by 09:00:00 hours of 09.11.2019.