Airtel Fibernet offers five Xstream Fiber broadband plans priced at Rs 499, Rs 799, Rs 999, Rs 1,499, and Rs 3,999.
The introduction of fiber internet technology has changed the game for the telecom industry. It has revolutionised the way of communication with its high-speed internet benefits. Therefore, many people are repeatedly choosing fibernet plans without hesitation. Due to fibernet's high-speed benefits, broadband has taken a backseat. Today, many of the telecom operators, including Airtel, have upgraded their services and packages in par with the current technology.
When it comes to Airtel, it offers a host of fiber options with maximum benefits and features. Airtel offers its users high-speed fiber internet at affordable rates. Their newly introduced plans are specially curated to cater to customer needs. So, let's understand what Airtel has in store for you.
Airtel Fibernet Plan Priced at Rs. 499
It is one of the basic fiber plans that offer unlimited internet with a speed of up to 40 Mbps. With this Airtel plan, you can make STD/local calls, listen to online music, podcasts, and live concerts on Wynk Music as well as take up online courses on Shaw Academy- all at an affordable rate!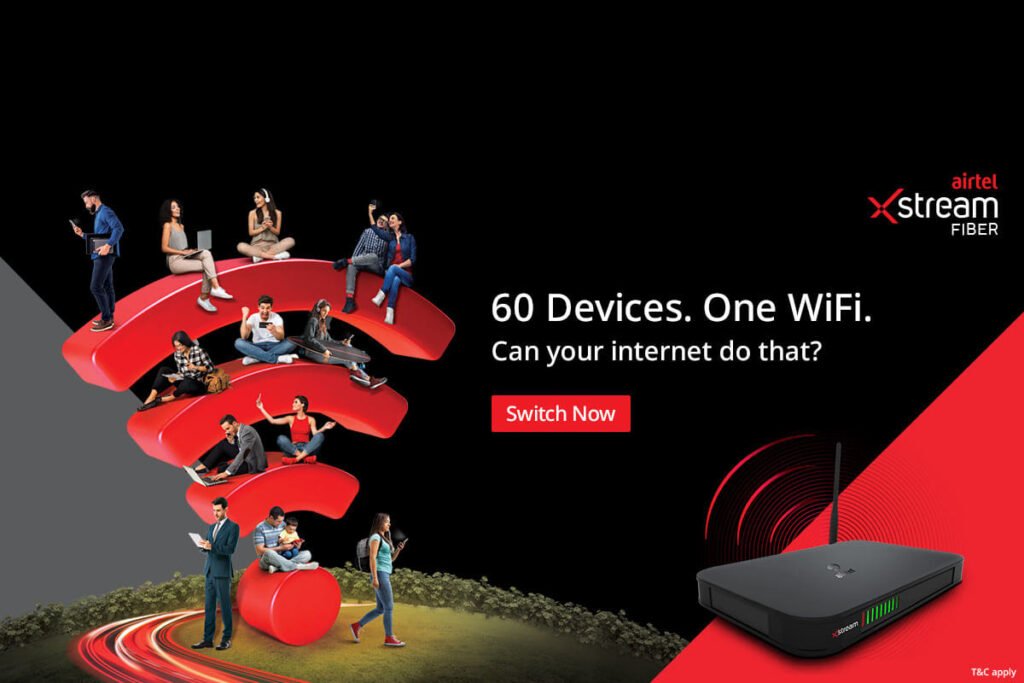 Airtel Fibernet Plan Priced at Rs. 799
Airtel offers the standard fiber plan with a speed limit of up to 100 Mbps to enjoy a seamless internet experience. This plan provides you with a subscription to Wynk Music and Shaw Academy as well as lets you connect with your loved ones due to its unlimited calling facility.
Airtel Fibernet Plan Priced at Rs. 999
Now, this fiber plan, which is priced at Rs. 999, provides you with endless streaming benefits. It lets you watch blockbuster movies, web series, and shows as it offers subscriptions to popular OTT platforms, such as Amazon Prime Videos, etc. With this plan, you can fulfill your entertainment needs with zero network problems due to its high-speed internet provision.
Airtel Fibernet Plan Priced at Rs. 1,499
It is one of the high-end fibernet plans that make your life much easier. It allows you to carry out your routine tasks, such as downloading and uploading files, sharing team invites, attending conference calls, sending urgent emails, and so forth at a speed of up to 300 Mbps. Moreover, this Airtel plan lets you enjoy some downtime as you can stream non-stop entertainment programs on popular OTT platforms.
Airtel Fibernet Plan Priced at Rs. 3,999
Now, if you're looking for a one-stop resource for all your needs, this Airtel fiber internet plan is perfect for you! It comes with a speed of up to one Gbps that ensures zero network problems. It lets you enjoy non-stop music, listens to some podcasts, and stream your favourite movies. Besides, you can also upskill yourself with a course of your choice at Shaw Academy. All in all, the Airtel fibernet plan, which is priced at Rs. 3,999, is a great pick for everybody!
The above-mentioned plans are valid for up to 30 days. Therefore, see to it that you make the right choice after careful consideration. Compare the available options based on the benefits, features, and prices before finalising a plan.
After taking a detailed look at all the offered plans, you can go ahead with the purchase. So, if you're wondering how to buy an Airtel fiber internet plan, follow the steps mentioned below:
Step 1: Visit the official Airtel website
Step 2: Click on the Broadband Section
Step 3: Go through their available Airtel Xstream Fiber plans
Step 4: Select the fiber internet plan of your choice
Step 5: Submit your personal details like name, mobile number, and city
In a nutshell, the Airtel fibernet plans are available for everyone today. Whether you stay in Delhi, Mumbai, Chennai, Hyderabad, or Bangalore, you can purchase their fiber plans from anywhere.
Follow TelecomByte for the latest Tech News, also keep up with us on Twitter, and Facebook.