Airtel and Dish TV are now offering a hybrid set-top box with the same price in India, but which box is better?
Bharti Airtel and Dish TV started their series of hybrid set-top boxes with the launch of Airtel Xstream and Dish SMRT Hub in the past week. Now, the market and the technology has gone through many changes and the demand of the consumers has also shifted. These days, the TV viewers not only want to access the internet on their TV screens but they want access to Live TV channels over the internet, the OTT applications and much more.
Good for both Airtel and Dish TV subscribers, as now the DTH operators are having their new products in the market called the Airtel Xstream Box and Dish SMRT Hub which will allow the users to do all of this on their TV screen. So, if you confused about getting an Airtel Xstream Box or Dish SMRT Hub, you should definitely know about the highlighting features of this box which set it apart from the others.
What Is Hybrid Set-Top Box
A Standard set-top box that only provides satellite TV channels, a hybrid set-top box combines OTT applications and the satellite TV channels both. This way, the viewers will be able to access both of these things with ease without flipping between remotes and without taking much hassle. Inbuilt Bluetooth and Chromecast are two very important features that will enhance the connectivity of the box with the other devices that you might be using in your home. Using Chromecast, you will be able to mirror your screen from your smartphone and stream content if needed. The Bluetooth connectivity option will also come in handy while connecting audio appliances.
Airtel Xstream Box Features
Airtel Digital TV has already made its intentions clear of migrating the existing Cable TV subscribers to its platform. To provide an extra option of choosing a smart Set-Top Box, the Digital TV arm of Bharti Airtel has launched a new Android TV-based 4K STB called Airtel Xstream Box. The Airtel Xstream Box is an upgraded version of the Airtel Internet TV which the company introduced back in 2017.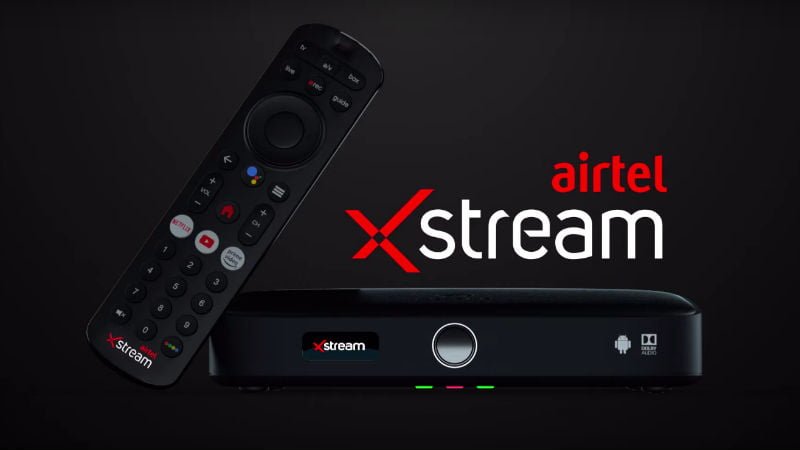 The Airtel Xstream Box comes with the latest Android 9.0 Pie-based Android TV operating system. It also supports other applications like Xstream App, Netflix, Prime Video, Zee5, ALTBalaji, YouTube, YouTube Kids, Play Store, Google Play movies, among others. Further, the users will also get access to the Google Play Store, using which the viewers will be able to download more applications on their set-top box. It also supports Google Home and other IoT device support.
Not only this, but it will allow the users to access Airtel Games supported by Smart remote gamepad application. There will also be Amazon Alexa support for the Xstream smart box as you'll be able to use your Alexa device for channel tuning, volume control and launching Netflix, Prime Video, YouTube application. The Airtel Xstream Box will support Google Voice search too.
Airtel Xstream Box Price
The Airtel Xstream Box retails for Rs 3,999 and for the existing Airtel Digital TV subscribers, the upgrade to Airtel Xstream Box is going to cost only Rs 2,249. With this, the subscribers are also going to get a complimentary one-year subscription (worth Rs 999) to all Airtel Xstream app content in addition to a one-month subscription to an HD DTH pack.
Dish SMRT Hub Features
Dish SMRT Hub is an Android HD set-top box that runs on the Android TV operating system by Google. The devices are using Android TV™ 9.0 and have been designed to deliver the best in class picture quality and sound to the viewers. It will also offer access to the Google Play Store and Google Assistant allowing the users to download and stream content from all popular OTT platforms. The new offerings from Dish TV India will support all popular OTT platforms like Watcho, Amazon Prime Video, Zee5, Voot, ALTBalaji and YouTube, etc.
With built-in Google Assistant & Chromecast and superior Dolby audio, the Android HD set-top box extends the ultimate cinematic experience to viewers in the comfort of their homes. A user can stream content from any device directly to the TV screen without any lag. Now Users can download thousands of apps and Play games right on their TV without needing an additional gaming console.
Dish SMRT Hub Price
The Dish SMRT Hub is the premium Set-Top Box Dish TV has ever launched, and for new users, it will be available at a price of Rs 3,999. However, existing Dish TV customers can upgrade to the Dish SMRT Hub by paying Rs 2,499 upgrade charges. As mentioned, the STB comes pre-loaded with Watcho app as well and it offers Live TV content. But Dish TV did not mention anything regarding the Watcho app subscription being available to Dish SMRT Hub buyers.