Vodafone has announced three new prepaid plans that come with caller tune benefits. The plans Rs 47, Rs 67 and Rs 78 fall under the "Value Added Service".
Vodafone India has introduced many exciting data plans in the past and it continues to attract the customers with their new plans. The telecom operator once again announced three new prepaid plans that come with caller tune benefits. The plans Rs 47, Rs 67 and Rs 78 fall under the "Value Added Service". But, these are not the all-rounder packs and hence they don't provide either data or calling benefits. These plans only provide caller tune benefits with different validity dates.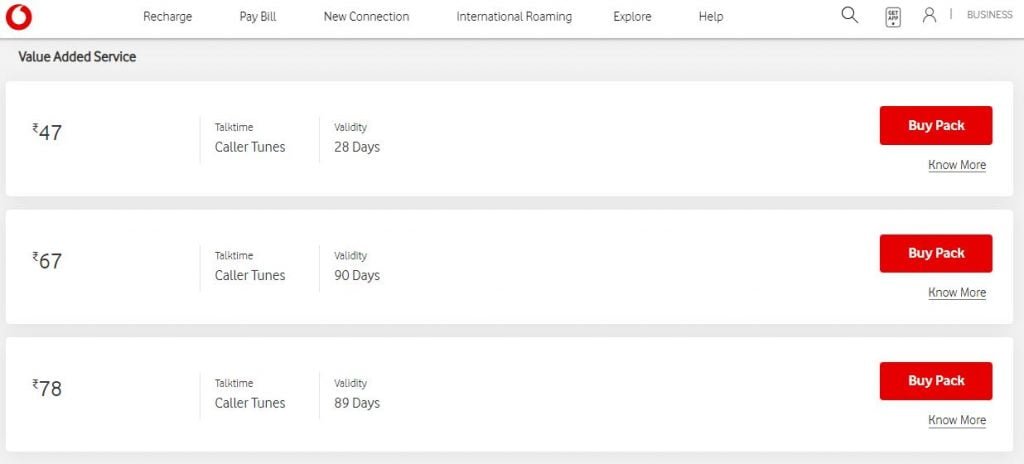 Vodafone Rs 47 Caller tune Pack
The Rs 47 data pack offering caller tunes for 28 days and the subscriber can set any song as a caller tune for 28 days and can change it as many times as he wants. However, the user will continue receiving incoming calls even if he doesn't have active plans. If you make a recharge of Rs 10, you can also make outgoing calls at standard rates.
Vodafone Rs 67 and Rs 78 Caller tune Pack
Similarly, the Rs 67 value-added plan offers caller tune benefits for 90 days. Under this plan, a user can set as many songs as he wants as his caller tune for 90 days. The Rs 78 plan offers the same benefits but the validity of the plan is 89 days. None of these plans offer calling or internet data as these plans are solely designed for caller tunes.
The Value-added service packs are currently available in Mumbai circles currently, but we are expecting them to go official in other circles as well. The company is also offering Vodafone Callertunes App for Android and iOS platforms.
What is Callertunes Service by Vodafone
Vodafone Callertunes lets you play your favorite song to all your callers. You can play a super hit song, even your name and much more to entertain all your callers while you are about to pick their call.
If you are a Vodafone subscriber and bored with that old ringing sound " tring tring" and want to give your callers the taste of your personality then, this post is for you. In this post, we are going to tell you about how to "set caller tune in Vodafone number".
By setting the caller tune of your choice, your callers will able to understand your personality. Another amazing fact about setting caller tunes is that sometimes a caller calls you and you are unable to answer the call immediately because you have not heard or feels the ring of your phone (as your phone ringtones are not that much loud in noisy areas and mobile phones take time to boost the ring volume).
In such cases, the caller feels that you are busy or you will not be answering, so they disconnect the call before getting hangup. In those cases, Hello tunes or caller tunes entertains the caller while calling you, such that they do not disconnect the call very quickly or wait until the call is automatically disconnected.
Play Jokes, Devotional music, Instrumental music or Movie dialogues to your callers using Vodafone Caller tunes. Vodafone Callertunes offers music across the following languages: Hindi, English, Tamil, Telugu, Malayalam, Kannada, Odiya, Bengali, Assamese, Marathi, Gujarati, Bhojpuri and Punjabi. You can play your latest songs back to back with a single click (on Play all button).
Vodafone All-Rounder Pack
Having said this, the company has also recently launched "All-Rounder-Pack" of Rs.95. With this plan, Vodafone users get Rs 74 talk time, local and STD calls at 2.5 paise per second, and 200MB of data. While the validity has been extended, Vodafone has reduced the data benefit from 500 MB for 28 days.
Vodafone offers more similar plans priced at Rs 39, Rs 49 and Rs 79. The new plan, however, offers the highest validity range. For Rs 79, Vodafone users get 200MB data, Rs 64 talk time, calls at Re 1 per second, and 28 days of validity. For Rs 49, Vodafone prepaid users get 100MB data, Rs 38 talk time, and 28 days of validity.