Sony launched Wireless Speakers having model details SRS-XB43, SRS-XB33, and SRS-XB23. Customers will be able to purchase these speakers from July 16.
Sony has introduced a long-range of its new speakers in India. The initial price of the company's new Extra Bass wireless speaker is Rs 8,990. It is a portable Bluetooth speaker that can easily carry from one place to another. These speakers will be in a cylindrical shape. These speakers will support the Xtra Base Sound, which comes with Sony's Reined Audio Technology XB wireless speaker lineup.

The speakers that Sony has launched are SRS-XB43, SRS-XB33, and SRS-XB23. Customers will be able to purchase these speakers from July 16. The Sony SRS-XB23 speaker is 21.8 cm high, coming in a 7.6 cm diameter and 580 grams. The company has also mentioned, these speakers are equipped with Sony's new X-Balanced Speaker Unit. These speakers provide a richer, deeper, and high-sound quality and powerful sound pressure for a superior listening experience.
Sony's new series of speakers come with an IP67 rating. Meaning the device is completely dustproof, rustproof, and waterproof. The company claims that the SRS-XB43 and SRS-XB33 provide 24 hours of music playback time. The SRS-XB23 also offers up to 12 hours of battery backup support, which can support up to 10 hours of extra bass mode playback. The speaker comes with the latest USB Type-C charger and can charge with battery by connecting to the smartphone via USB Type-A.
Google Assistant and Siri in Sony Wireless Speaker
Sony's new speaker will come with voice assistant features like Google Assistant, Siri, which can be used for free calling experience with the help of Build-in Mic. Type C charging support will be available to listen to the song non-stop in the speaker. Also, the music speaker application will be able to control the party speaker.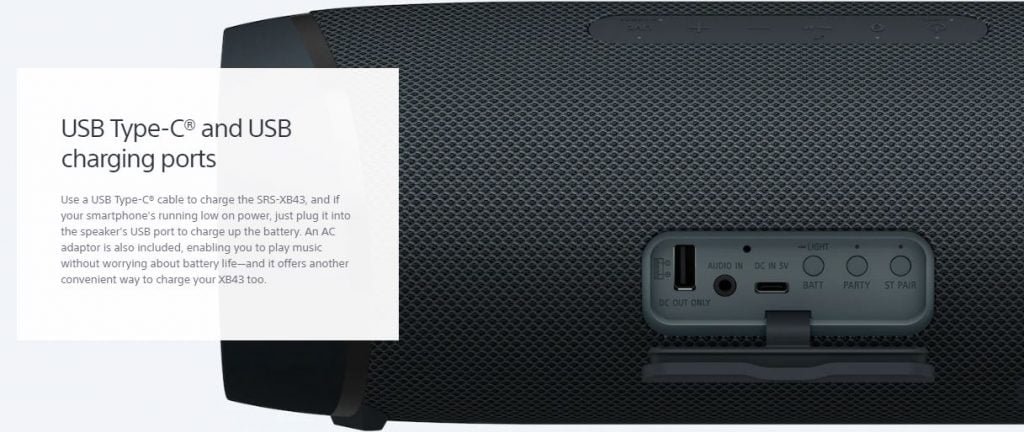 All these speakers have support for Music Center Application which allows you to control party speakers and adjust settings as per preference. There is also an option to interconnect multiple speakers, The party connects feature lets one connect up-to 100 compatible wireless speakers with BLUETOOTH technology to sync the music and lights to ensure everyone dances to the same beat.