According to the Telecom Subscription Data as on August 31, 2019 press release by TRAI, Mukesh Ambani-led Reliance Jio has added a massive 8.4 million news users on board.
Reliance Jio added a massive 8.4 million new subscribers in August 2019, according to the data released by the Telecom Regulatory Authority of India (TRAI). As other private telcos- Vodafone Idea, Bharti Airtel and government-owned BSNL lost close to 5.8 million subscribers combined. The TRAI data also reveals that Vodafone Idea Limited is still the leading telecom operator in the country with a market share of 32.03%. Reliance Jio is said to have a market share of 29.74%, more than that of Bharti Airtel's 28.01% share. At the end of August 2019, Jio officially confirmed a subscriber base number of 348.2 million, followed by Vodafone Idea whose subscriber base has been reduced to 375 million at the end of August 2019. Going by the numbers revealed by the telecom operators, Vodafone Idea still leading with the subscriber base count in India.
Reliance Jio Added 8.4 Million New Users in August 2019
According to the Telecom Subscription Data as on August 31, 2019 press release by Trai, Mukesh Ambani-led Reliance Jio has added a massive 8.4 million news users on board. Jio already confirmed its subscriber base as 348.2 million at the end of August 2019. Reliance Jio's aggressive push towards JioPhone and JioPhone 2 is helping the telco add more users compared to officials like Bharti Airtel and Vodafone Idea. The Government owner BSNL & MTNL is currently having a market share by 10.22% combine, whereas private telcos have a share of 89.78% of market share.
In August 2019, Vodafone Idea lost 5 million and Bharti Airtel lost 0.6 million customers, further denting their subscriber base. Do make a note that Bharti Airtel even reports Tata Teleservices subscribers even though its merger was not approved by DoT as of now. Lastly, MTNL lost over 6,700 subscribers during the same month.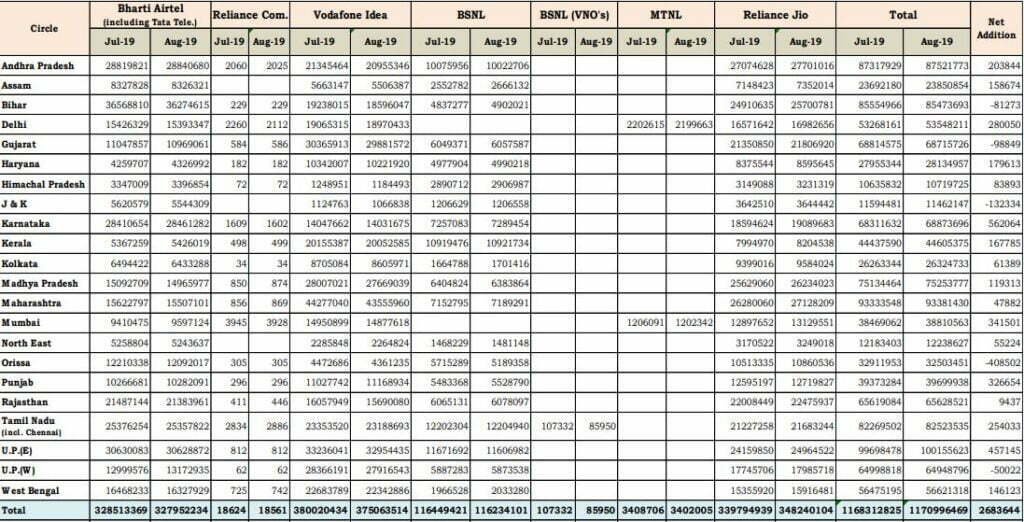 Can Reliance Jio's Reach The Next Target is to Reach 500 Million Subscriber Mark?
While Reliance Jio wasn't able to make an instant mark in the wired broadband segment, the telco has managed to disrupt the Indian telecom sector with its affordable broadband plans. Jio's next goal is to reach 500 million subscribers mark and it could reach the goal by the end of 2020.
In a press statement issued last week, Reliance Jio confirmed that the outgoing calls to rival operators would be charged at six paise per minute. For Jio prepaid customers, the company has introduced four Interconnect Usage Top-Up Vouchers (IUC Vouchers) and they are priced at Rs 10, Rs 20, Rs 50 and Rs 100. These vouchers ship with free IUC minutes to the customers; The Rs 10 IUC voucher comes with 124 minutes of non-Jio minutes, Rs 20 ships with 249 minutes of IUC minutes, Rs 50 comes with 656 minutes of minutes and the Rs 100 voucher provides a user 1,362 minutes of non-Jio calling. The data benefit of these plans includes 1GB, 2GB, 5GB, and 10GB, respectively.
Reliance Jio is now caring for its choice of displaying IUC charges by bringing TRAI data into the picture. Referring to the TRAI data available for the month of June 2019, On average Reliance Jio customers uses 200 minutes of voice calls with other networks each month, which brings the taken a cost to Rs 12. The calculation is made on the 6 paise per smaller than expected, and for 200 minutes, customers will be charged Rs 12 from Reliance Jio which does not show up to be a huge bargain.
Reliance Jio is endeavoring each conceivable way to influence customers that the IUC Top-Up vouchers it launched are since of the officeholder telcos. Last week, Jio trolled Bharti Airtel and Vodafone Idea on social media by saying that it's these two telcos who are reliable for the introduction of IUC vouchers. Reliance Jio is the single LTE-only operator in India, but Vodafone Idea and Bharti Airtel are GSM telcos with close to 70% of subscribers are still on 2G and 3G frameworks.
Recently, Reliance Jio shares a TRAI report which says Jio customers are making only 200 minutes of on an average outgoing voice calls to Bharti Airtel and Vodafone Idea per month. If Jio charging 6 paise per minute as IUC charges, 200 minutes is equal to Rs 12. Basically, Reliance Jio customers will have to pay a minimal extra amount every month. The TRAI report is an average usage minute, where a subscriber can also make outgoing off-net (other networks) calls over 2000 – 3000 minutes and other subscribers can also make this less than 100 minutes.