The last few weeks have seen Realme's wireless earbuds gathering a lot of attention. Ever since Realme CEO Madhav Sheth teased them at the Realme X2 Pro launch, the wireless earbuds have generated a lot of interest. Most of that may be due to the Apple AirPods inspired design and an expectation fo a low starting price. However, there's more to the Realme Buds Air than just being cheap AirPods knock-off- thanks to a new leak.
Realme's first truly wireless earbuds that are Realme Buds Air are going to be launched in India soon. Prior to the official launch, the company is releasing teasers about the features of the upcoming Reality Buds Air, such as it will come with smooth connectivity and Google Assistant support. Realme has confirmed that the Buds will have three color variants, now a new feature has indicated that the Buds may be equipped with wireless charging support.
Not much is currently known about the Realme Buds Air except that they will be unapologetically similar to Apple AirPods and its charging case. Colour options will include Black, White, and Yellow. On the inside, they will be fitted with 12mm bass boost drivers and will bring seamless connectivity with Realme devices.
Realme Buds can come with wireless charging out-of-the-box support. In the picture, the Realme Buds are seen on the wireless charging mat in the Air Black case.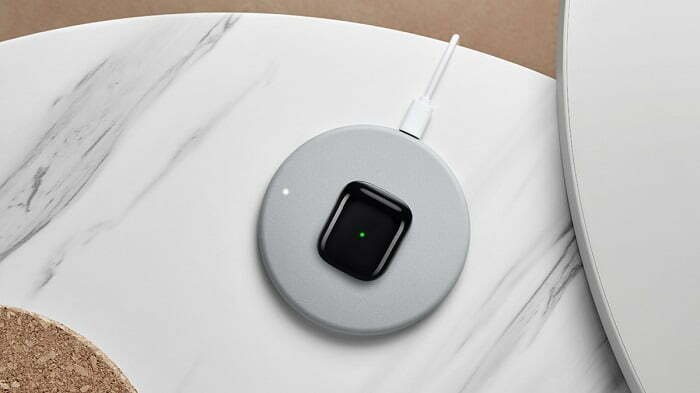 The leaked image shows the black color variant of the Reality Buds Air, as well as a black charging case placed on the wireless charging mat. There is also a green LED indicator in the charging case, it seems that Realme Buds Air can come with matching color charging case.
Realme has already confirmed that the Buds Air will come in three different color variants- Yellow, Black, and White. The Buds Air will have a long stalk housing the microphone and they could even feature touch controls similar to the Galaxy Buds and AirPods. What remains to be seen is what kind of battery life the Buds Air could offer on a single charge and whether the audio quality is on par with what the popular earbuds in the market have to offer.
Realme currently sells no wireless chargers or phones that support it. Maybe that could change once we have the Buds Air out, creating a product ecosystem. Wireless charging has previously been a luxury and was not particularly cheap. Realme's entry into this space could spice things up.
Realme Buds Air was recently listed on Flipkart with a price tag of Rs 4,999, though this listing was later removed. Reality Buds Air will be launched in India on 17 December.