Nokia Smart TV features such as Intelligent Dimming, DTS TruSurround, and Dolby Audio, and truly cinematic experience.
Nokia TV is here to make your visual experience truly delightful. It has been crafted with features such as the MEMC technology to provide you with clear visuals. What's more, it comes with bottom-firing speakers, along with Dolby Digital and DTS Tru Surround sound for enhanced audio. Oh, and you needn't worry about your home's aesthetics.
The Nokia Smart TV has been elegantly designed with a thin frame and a stylish silver bezel at the bottom. This television has the Google Android Pie (v9.0) operating system which provides you with a hassle-free user interface. Oh, and with the help of the Google Assistant, you can watch your favorite content easily. If you are expecting to treat yourself to brilliant visuals and exceptional sound quality then, head to your favorite shopping app and buy the Nokia 139.7 cm (55) TV. A vibrant visual treat awaits to be discovered and enjoyed. Now, let's get to the different features that make the Nokia 139.7 cm (55) TV a viable option for your home.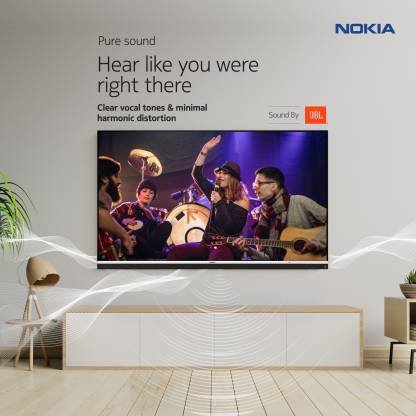 Right from watching detail-rich movies to playing graphic-heavy games, you can reimagine entertainment with Nokia TV. Make movie nights at home more entertaining for you and your family or friends with the Nokia Smart TV. Powered by the PureX quad-core processor and 2.25 GB of RAM, the Nokia 139.7 cm (55) TV delivers content that is brighter, sharper and more vivid. Features like the Intelligent Dimming Technology, Dolby Vision and HDR 10 further enhance your viewing experience. Backed by Dolby Audio, Dolby Digital, and DTS TruSurround technologies, the Nokia TV features bottom-firing speakers that deliver powerful audio.
Furthermore, the Clear View technology and Clear Sound technology reduce noise for digitally streamed content. Flaunting quite a futuristic yet minimalistic design, this TV from Nokia beautifully complements your living room's decor. This TV sports a bezel-less design to maximize the active space, thereby giving you seamless infinity-edge viewing experience. In addition to the above, this TV from Nokia comes with Google Voice Assistant and hotkeys for Netflix and YouTube so that you can spend more time enjoying the content than searching for it.
Nokia TVs – A Cinematic Experience Awaits You
The range of Nokia PureCinema televisions features the PureX quad-core processor which will bowl you over with enhanced picture quality. It ensures that you get to see great visuals by reducing video noise and facilitating 100% color accuracy. The MEMC technology makes sure that any blur or jitter is detected to provide you with an unparalleled viewing experience. Oh, and you can place this television anywhere you like. The 178-degree wide-angle will make it a point that you get to see everything clearly from almost any angle.
Enjoy Pure Sound by JBL
We know. A video is never complete without equally good audio. This is why this TV from Nokia has been designed to provide you with unparalleled sound quality. Featuring bottom-firing speakers, Dolby Digital, and DTS Tru Surround sound, this Nokia TV will make sure that you get to experience multi-dimensional sound. It also comes with Clear Sound technology which reduces digital sound compression. That's not all, you get to enjoy sound in every form, as this television lets you choose from four additional sound modes – Drama, Action, Music, and High Bass.
Thoughtfully Designed to Look Appealing
This Nokia Smart TV will be an elegant addition to your home. Why you may ask? It has been designed with a thin frame, and it is slim and sturdy to look at. It also features a stylish silver bezel at the bottom which will definitely steal the show, wherever you place it. So, one thing is for sure. The next time someone is visiting you, he/she will not be leaving your room without watching at least one show on your new gorgeous television screen.
Get Ready for the Android Experience
The Nokia TV features the Google Android Pie (v9.0) operating system. This interface will be a seamless one to handle, there making your viewing experience and navigation simpler. What's more, this television features Chromecast built-in, so you can directly cast your preferred videos and photos. Oh, that's not all. This TV features the Google Assistant. You can press the Google Assitant button on the remote and access the content of your choice easily.
With great picture quality, fabulous audio, and an eye-catching design, the Nokia TV will definitely be a showstopper. Get ready to delight your loved ones to a cinematic visual treat, no matter what show or movie you are watching.
Nokia Smart TV Pricing and Availability
The new Smart TV from Nokia is set up for selling for Rs 41,999. The TV would be available on Flipkart, where it has been teased, and the sale would start on December 10. Along with the TV, the buyers would also get a bundled stand as well as wall mount in addition to a Bluetooth remote that supports Google Assistant for voice input as well as control. As for the offers which will ship with the Nokia Smart TV, Flipkart has listed a 10% discount on prepaid transactions and a Complete TV Protection coverage that includes three years warranty against manufacturing defects and accidental damages that would be available only for Rs 999.