The Huawei Mate Xs foldable phone has been launched in the market with the Kirin 990 chipset and will feature 5G support to users.
Huawei has launched the Huawei Mate Xs foldable phone, adding a new smartphone to its foldable segment. Which is the same successor variant of the Mate X foldable phone launched last year and the design and structure of the phone in the new smartphone has been greatly improved compared to the previous one.
In Huawei Mate Xs, users will get Huawei Mobile Services instead of Google service. Apart from this, Falcon Wing design has been provided with a flip button on the phone which is capable of unfolding the phone at high speed. At the same time, 55W Huawei SuperCharge fast charging support has been provided in the battery used in it.
Huawei Mate Xs is priced at EUR 2,499 i.e. approximately Rs 1,94,800 and this phone will be available for sale in the international market in March. The phone has been launched in the same variant, it has 8GB RAM and 512GB internal memory.
Specifications of Huawei Mate Xs
The Huawei Mate Xs foldable phone has been introduced on Kirin 990 chipset with 5G connectivity. The phone has an 8-inch main display, whose screen resolution is 2,480 x 2,200 pixels. While a 6.6-inch front display with 19: 5: 9 aspect ratio has been given. At the same time, there is a 6.38-inch rear panel that users can use for selfies.
Huawei Mobile Services has been given on the phone and users will not be able to use Google's apps like Gmail and YouTube etc. in it. At the same time, it has a quad rear camera setup. The phone has a 40MP superseding primary wide sensor, 16MP ultra-wide-angle lens, 8MP telephoto lens and a 3D Time of Flight sensor. Huawei Mate Xs has 4,500mAh available for power backup. The phone has features such as 4G VoLTE, GPS, dual-band Wi-Fi and Bluetooth 5.1 with 5G support.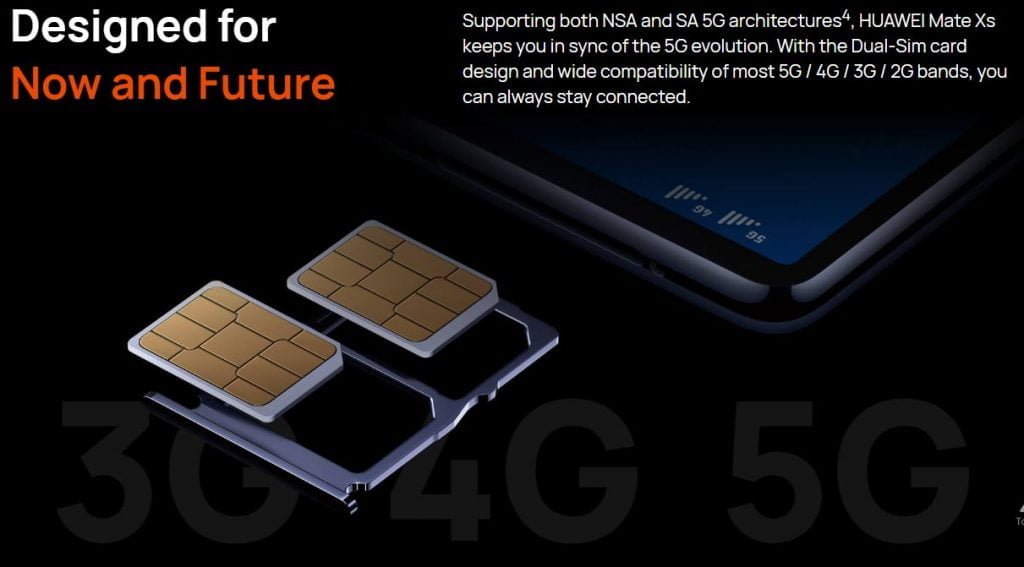 Spread your wings with HUAWEI Mate Xs' Falcon Wing Design. Adopting the unique Falcon Wing with an innovative hinge, HUAWEI Mate Xs presents groundbreaking technology with a remarkable visual sensation. Folded as a sleek smartphone, it fits perfectly in your pocket and palm. You can always be ready for tasks on the go. Flip it open, you can explore more in the double-sized immersive screen with comfort and ease.
The stunning HUAWEI FullView Display offers immense details and vivid colors everywhere you look, while the remarkable 8-inch1 screen allows you to see more at once. No need to scroll back and forth, the breathtaking scenery, thrilling wide shots, and comprehensive infographics are all unveiled before your eyes.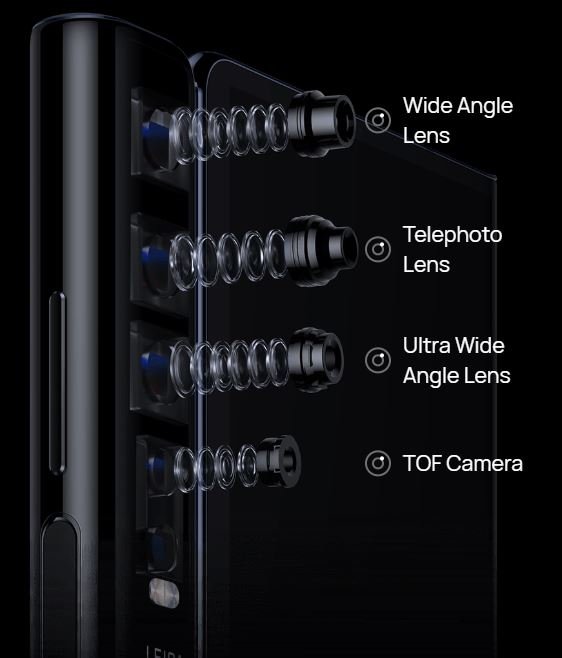 The power button of HUAWEI Mate Xs is thoughtfully designed to integrate fingerprint recognition. So you can touch gently on the side to wake up and unlock your phone securely in a split second.
The intelligent Multi-window2 function divides the 8'' widescreen into two independent task interfaces. So you can make notes while checking your messages and review your photo album for the right picture to post while editing your social media updates. You can even open one App in 2 split windows to easily manage different tasks at the same time with the HUAWEI App multiplier3. Also, there is an ingeniously designed Dock to incorporate your favorite apps in a shortcut menu so you can activate a floating window for quick action. Never waste time switching Apps.
Powered by the Kirin 990 5G chipset, HUAWEI Mate Xs achieves cutting-edge speed and performance in this 5G era. The CPU architecture of three-level energy efficiency brings ground-breaking performance with less consumption. The Dual-core plus Tiny-core NPU creates a solid foundation for the explosive development of future AI capabilities.
Supporting both NSA and SA 5G architectures4, HUAWEI Mate Xs keeps you in sync of the 5G evolution. With the Dual-Sim card design and wide compatibility of most 5G / 4G / 3G / 2G bands, you can always stay connected.
Introducing HUAWEI's innovative cooling system, thanks to flexible bionic graphite that rises to the dual challenges of foldability and balanced dissipation, your HUAWEI Mate Xs can always stay cool. Stream or download ultra-HD videos with high speed, play all your graphics-intensive 3D games and dive into the thrills of the 5G world without breaking a sweat.
Integrating the back and front camera, the 40 MP Supersensing Leica Quad Camera System allows you to capture the beauty of the world as they catch your eyes. Far or close, dark or bright, grand or small, now every worthy image stays not only in your mind but also on your phone.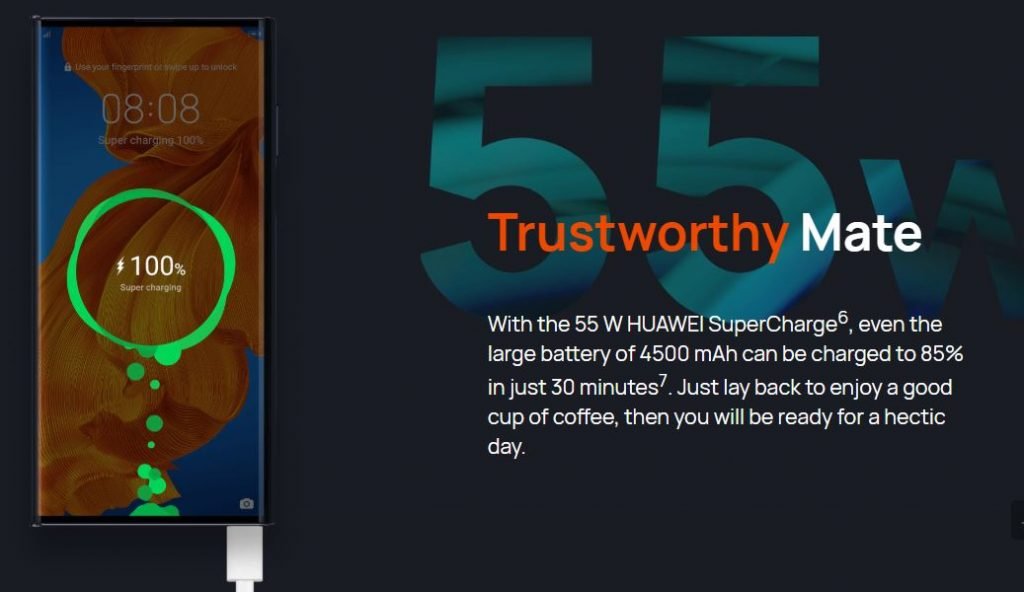 Thanks to the better power management of Kirin 990 5G chipset and 4500 mAh5 large-capacity battery, HUAWEI Mate Xs offers outstanding long battery life. It will stand by you for a thrilling game night or a demanding presentation day, just like a trustworthy friend.
With the 55 W HUAWEI SuperCharge6, even the large battery of 4500 mAh can be charged to 85% in just 30 minutes7. Just lay back to enjoy a good cup of coffee, then you will be ready for a hectic day.