556
GTPL Hathway will likely price its hybrid Set-Top Box at just Rs 1,499, but we may see some terms and conditions apply
Broadband and DTH operators in the country are coming with their Smart Set-Top Boxes running Android TV platform and popular OTT apps pre-installed. In recent times, we have seen operators like Airtel Digital TV, Dish TV, ACT Fibernet and even Reliance Jio launching smart Set-Top Boxes to the customers. Following the footsteps of these operators, GTPL Hathway will soon launch its own Android TV-based hybrid Set-Top Box with popular OTT apps bundled. Android TV is the popular television platform right now and both DTH, broadband service providers are making use of this platform from Google. GTPL Hathway officially confirmed that its hybrid Set-Top Box would go official very soon and it's currently testing the product with select customers in Gujarat state. Also, the price of this Set-Top Box could be very affordable, according to our sources as even Hathway offered a similar product to the customers at just Rs 1,499.
GTPL Hathway Hybrid Set-Top Box: What We So Far?
The GTPL Hathway hybrid Set-Top Box looks identical to the ACT Stream TV 4K Box that was launched by ACT Fibernet a few days ago. It fits in your palm and all the ports are placed on the rear side. As you can see in the image, there's a Cable TV port, AV port, HDMI port for connecting the box with the TV, Ethernet port for directly accessing the internet through the box and the power supply port. It seems like the box will not offer any USB-A port for connecting storage devices like pen drives and hard disks.
Also, there's a full view of the remote as well. Similar to other Android TV Set-Top Box remotes, the remote of the GTPL Hathway hybrid Set-Top Box will also have quick shortcuts to jump into apps like Netflix, YouTube, ZEE5, SonyLIV, and the best part is users can map the apps they like in two slots. There's a Google Assistant button as well which allows users to perform voice searches quickly and a Live TV button is also present. That being said, the remote is not the smart remote and it's more like the traditional remotes with a lot of buttons. For the unaware, DTH operators like Airtel Digital TV and Dish TV also introduced similar hybrid Set-Top Boxes to their customers and they priced it at Rs 3,999.
GTPL Hathway Hybrid Set-Top Box: Pricing and Availability
According to the information we have right now, GTPL Hathway will likely price its hybrid Set-Top Box at just Rs 1,499. Hathway also has an Android TV stick priced at Rs 2,999 and it's bundling the device with some long-term broadband plans. It could be the same in the case of GTPL Hathway. Very soon, the company might start providing Cable TV and broadband services together, and with those plans, it might provide the hybrid Set-Top Box for free, but nothing is confirmed for now.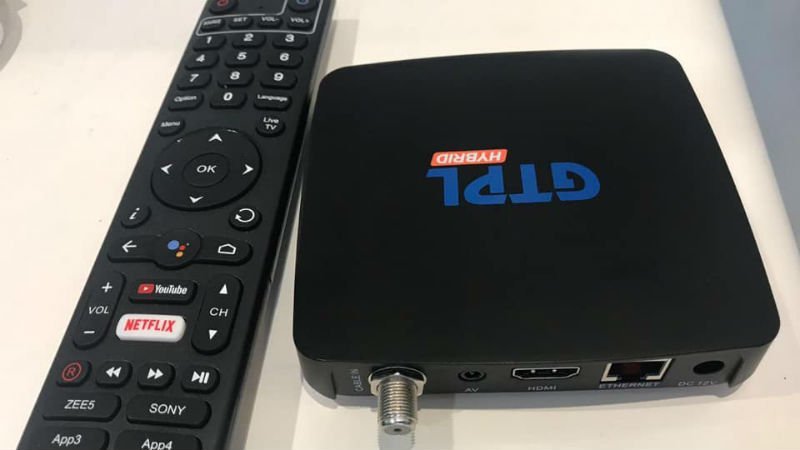 In contrast, the HD Set-Top Box of GTPL Hathway is priced at Rs 999 and it will not ship with any Cable TV plan. GTPL will likely announce the product officially in the coming days and it's currently testing it with select users in some regions. In the past, Hathway even offered as similar STB called Hathway Hybrid Smart Hub and it retailed for the same Rs 1,499 price.
GTPL Hathway Testing Hybrid Set-Top Box in Various Regions
GTPL Hathway is a known Cable TV and Broadband service provider in the Gujarat state. According to our sources, GTPL Hathway has been testing the same hybrid Set-Top Box with its customers in the state for a while now. Also, it's said that the company will bundle OTT app subscriptions to the customers which will come as a relief. This STB from GTPL Hathway may come pre-installed with Amazon Prime Video, ZEE5, Sun NXT and so on, but the entire list of apps is not known at the moment. Also, the STB will have support for Cable TV service as well, similar to other products launched by Dish TV, Airtel Digital TV and even Jio 4K Set-Top Box.